HENGFAT Compatible Toner Cartridge Is STMC Certificated

HENGFAT Compatible HP Toner Kit 108A W1108A For HP Laser NS1020/1020c/1020w/MFP 1005/1005c/1005w
July 10, 2019

The Differences Between OEM, Remanufactured and Compatible Printer Cartridges
August 15, 2019
Thanks for the efforts from our HENGFAT team: Ivan, James, Yolanda. We are certificated by STMC from 13th June 2019, it helps us that use the test methods in our test cartridges and provide the results to potential buyers.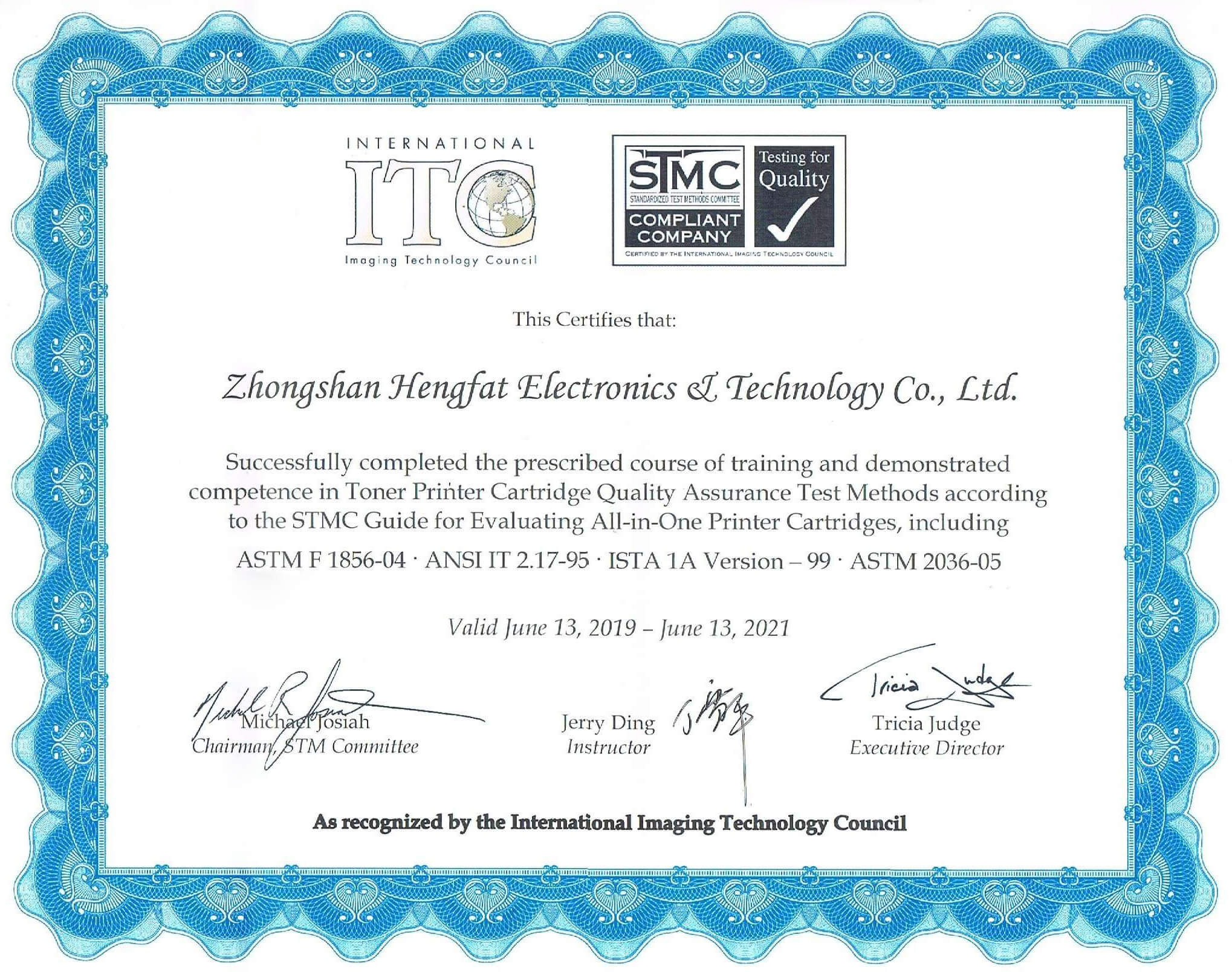 The STMC has accepted several ASTM ( American Society for Testing and Materials) International test methods as well as ISO, ISTA, and ANSI test methods.  For example, STMC uses certain ASTM test methods: ASTM F 1856 for yield, and ASTM F 2036 for image density and background, etc. Neither of these tests is used to evaluate toner, drums, PCRs, mag sleeves, etc. The test methods are used to evaluate a finished cartridge in comparison to another cartridge, typically an OEM cartridge.
It makes it possible to evaluate a cartridge anywhere and come up with the same test results no matter who tests it, to avoid the issue of yield as possible.
With the STMC seal of affirmation on HENGFAT products, you are assured of the finest quality office products available and all at competitive pricing to please the bottom line.
Here are some details of us:
— Our difference:   www.hengfat.com.cn/hengfat-premium-toner-cartridge
— How to visit our factory:   www.hengfat.com.cn/have-a-visit-to-our-factory
— How to choose the reliable manufacturer in China:   www.hengfat.com.cn/how-to-choose-a-reliable-generic-or-compatible-toner-cartridge-manufacturer